About Me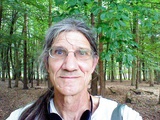 Having started to combine my equal interest in art and design with science and technology at an early age I went on to develop my skills in these areas to a very high level.
This has given me the ability to work to a high standard in a variety of different areas, but also the understanding to communicate well in collaboration with others
My first experience with professional stage lighting was at the age of 10 when I used to hang out in the lighting box at Southampton Gaumont Theatre, learning about lighting and sometimes operating controls during a show whilst my mother was performing Gilbert and Sullivan on stage.
I also made my own lights for home performances and worked with schools productions.
During my 5 years at art college and design school I studied 3D design, materials and processes, designed several pieces of lighting equipment and kinetic sculpture and was also involved with effects lighting and stage productions.
Since then I have worked a lot in a variety of different industries including the entertainment industry, scientific development and the arts.
In 1985 I first started working with lasers - from designing and making individual mechanical and electro-mechanical components, to complete systems including many innovative designs.
I have made laser systems for night clubs, discos, exhibitions, conferences, public displays, promotional events, advertising, TV and video and scientific research including : Battersea Power Station, Empire Leicesester Square, Heaven night club, Princess Norhagatti, Canary Wharf Tower, Science Museum, London, Greenwich Royal Observatory, various bands (including Massive Attack) and TV, film and advertising companys.